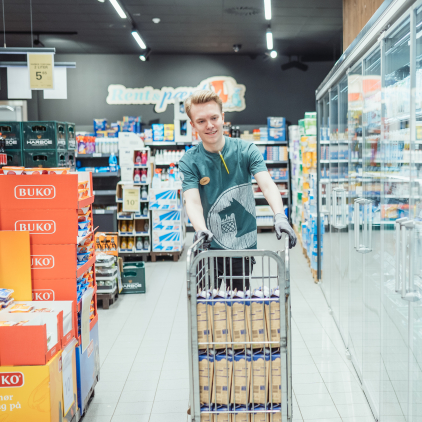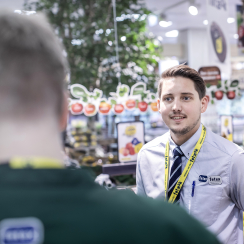 Jobs in our stores
With more than 60,000 employees, Salling Group is one of Denmark's largest workplaces – distributed across department stores, supermarkets and hypermarkets, discount shops, burger restaurants and coffee bars.
This means that we have a multitude of job opportunities for you, regardless of educational level and background. For those who want it, there is a short path to more responsibility and trainin. We also have room for you if you need an extra hand to get started.
Store employee
As an employee in one of our stores, you help create a good everyday life for all – including your colleagues and our customers. Here, you will have the opportunity to be a part of a strong team where you cooperate closely with committed colleagues in a rich workday. The tempo is high in our stores and you have abundant opportunities to make a difference and translate your ideas into results.
If you wish, there are also good opportunities to develop yourself professionally and personally so you can take on another role – either in your own store or somewhere else in the Salling Group.
Store Manager
The store manager is the local focal point in our organisation. Our store managers enjoy freedom with responsibility. They handle the store's operations while at the same time supporting the employees' performance and development.
As a store manager, it pays to be active and proactive, and we place great importance on you developing yourself both professionally and personally. This can also provide you with a good foundation for your further career at Salling Group.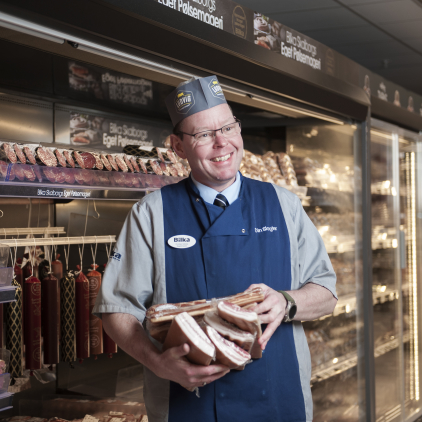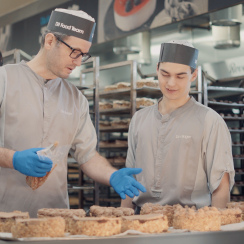 Become a gourmet butcher at Salling Group
High professionalism and quality are at the centre of Salling Group's butchers. It is important for us to offer our customers the best meat and competent advice in our butcher departments. This is why we train our gourmet butchers ourselves in føtex and Bilka – a career path for those who are passionate about quality and good taste.
Delicious meat, garnish and tasty delicacies are just some of the things that you, as a gourmet butcher, will come to work with during the training. Our butchers are quality conscious and proud of their profession. We support this by ensuring their development – both by handing out responsibility in the busy daily store schedules and through ongoing training and education.
Become a baker at Salling Group
At Salling Group, we appreciate good craftsmanship, which is why we train our own bakers in føtex and Bilka.
We prioritise offering our customers a wide selection of high quality, freshly baked bread and cakes every day. This requires skilled specialists, which is why we train our own bakers in our 50+ bakeries in føtex and Bilka.
Our bakers in føtex and Bilka craft high quality products and provide customers with good service. As a baker in our stores, you will be part of a working environment where there is room for everyone, and where team cooperation is a natural part of creating success.
We give you a high level of responsibility, and you will have ample opportunity to shape the department while developing yourself personally and professionally in a rich workday.
Apprenticeships at Salling Group
At Salling Group, we want the most talented apprentices in Danish retail, and we only get that by offering the best apprentice training. As an apprentice with us, you will receive a solid education in an international company that combines theory and practice. This gives you a great springboard for a career in retail.
Find out more about apprenticeships at Salling Group (Danish only)